Monthly Archives:
April 2017
LMB Conveyor NPF-350-DD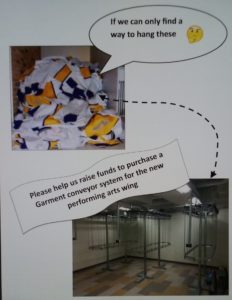 With the new high school getting completed, the music teachers have requested additional funding for vital equipment such as an electrical industrial garment conveyer and trolley system for safely moving and storing precious clothing such as marching band uniforms, concert dresses, and costumes for the Barnstormers Drama Club used throughout more than twenty performances each year. This will be utilized by the entire George P.Read Music Department.
This garment storage and trolley system will cost approximately $22, 000.  We need help to raise these funds.
Please buy a 'Hanger' for the new storage system and your name or whoever's name will be on a plaque in the new performing arts wing.
Email  Lkwdmusicboosters@gmail.com with what name to go on each hanger that you purchase.
Thank you for your support!
One 'hanger' for $30
Four 'hangers' for $100
LMB Conveyor NPF-350-DD